Fully licensed and insured foundation and basement repair experts in northeast Ohio
Bowing foundation repair in Cleveland and northeast Ohio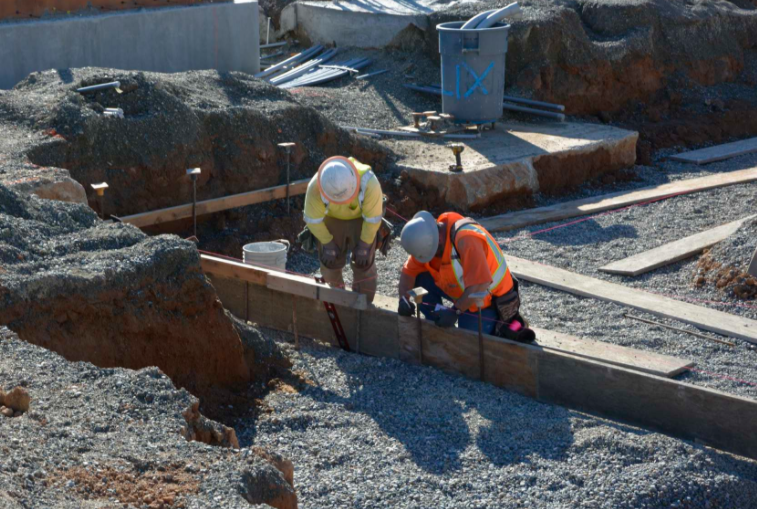 A bowing and bulging foundation basement wall should be taken seriously. A leaning structure is one that has been weakened significantly and is a result of decreased stability.
Buckling walls are most common in older structures and homes but can still become an issue for newer concrete block and poured concrete foundations.
The cause of bowing walls is often soil pressure and other lateral forces, or weak soil that leads to foundation settlement. Walls bow and bulge slowly, and by the time you notice leaning, the issue has likely been present for a while.
Since the foundation is made to support the entire structure, acting fast to have leaning walls repaired is essential. Putting off repairs can result in devastating structural damage, expensive fixes, and a foundation wall that may need to be rebuilt entirely.
If you believe your foundation may be failing, get peace of mind by scheduling a free assessment with Cleveland Foundation Repair Pros.  Our assessments are honest and thorough, and we provide long-term foundation repair solutions at affordable rates.
Signs your basement walls are buckling or bulging
Believe it or not, many instances of bowing basement walls are not clear to the untrained eye. There are, however, obvious signs that a foundation failing.
Severely weakened walls can result in a foundation collapse and the circumstances are not safe for occupants of the home or structure.
If you encounter the following foundation issues, consult with repair contractor as soon as possible:
Horizontal, star-step cracking in basement wall
Diagonal cracking at foundation corners
Inward bowing or bulging
Wall leaning in at top
Wall sliding inward at bottom
Wet or expansive soils clearly noticeable around foundation
Causes of foundation leaning and bowing
Several factors determine what method might be used to repair a bowing foundation wall. It depends on the material used to build the foundation and what exactly is causing the buckling.
The type of soil, amount of moisture in soil, ground temperature throughout the year, and how far the foundation has been built underground are all important factors we take into consideration.
Basement walls are designed to handle vertical pressure. Bowing and bulging is the result of lateral pressure from soil, moisture, and nearby tree roots.
In some instances, it may be obvious that a lack of a gutter or one that is overflowing has caused heavy soil that is pressing against the foundation.
Repair methods for tipping foundations & basements
Only in rare cases will disruptive and costly excavation of the surrounding soli be necessary to straighten and stabilize a bowing wall. Even more rare is the need to entirely rebuild an replace a failing wall.
Several repair solutions exist. If a fix is necessary and we provide an assessment, we will carefully explain the proper methods of repair.
We only use methods that have lengthy warranties and deliver long-term stability to your home's foundation. They include:
Foundation anchors
Steel braces
Carbon fiber fabric
Helical piers
Steel push piers
Steel beam reinforcement
Contact us today for more information on foundation repair options.
Symptoms of a weakened foundation
As already mentioned, a titling wall is not always easy to diagnose. Pay close attention to other components of your home or commercial structure for subtle signs that your foundation has been weakened.
If you encounter any of the following, make sure to closely monitor the condition of your basement from month to month:
Sticking windows and doors
Uneven or sagging floors
Cracking drywall
Tilting or tipping chimney
Cracking in exterior brickwork or caulk
Even if you're not sure if your foundation has been weakened, we're happy to take a look and give you our honest opinion free of charge – and with no obligation.
Call us today for reliable and trusted foundation repair services near you in Cleveland, Parma, Willoughby, Painesville, Elyria, and Akron, OH.