Fully licensed and insured foundation and basement repair experts in northeast Ohio
Sinking foundation repair in Cleveland, Ohio region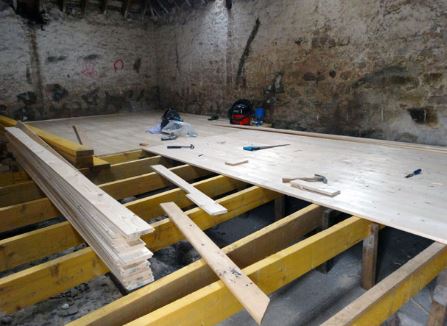 A strong foundation is generally supported by the soil under and surrounding the walls and slab floor. Poor soil can lead to various problems for not only the foundation but the structural integrity of the entire house or building.
When underlying soil cannot support the weight of the structure above, issues arise. Some are far more noticeable and progress more quickly than others.
Slanting floors or giant basement cracks are obvious signs that a foundation has settled or shifted. With our problems, you may not notice them for months or years as they grow slowly.
Since the foundation is the component that supports the entire structure, it's important that the issues causing the basement to sink and be uneven be addressed as soon as possible by a professional repair contractor.
Not acting immediately, may lead to more damage and more costly repairs.
To give you peace of mind, we provide free basement inspections and assessments. We determine what is causing the foundation to settle and deliver repair options (if any is needed) that address the problem in a long-term way that fits your budget.
Contact our foundation repair pros in Cleveland, OH today to schedule your thorough inspection and estimate – with no obligation.
Signs a basement is sinking or shifting
For most of us, it's not a common routine to regularly check our basement walls and floors for cracking, bowing, bulging or sinking. In a lot of cases, the first signs of a failing foundation isn't noticeable to the naked eye.
However, there are other factors to watch for that could signal that your foundation has sunk or settled. They are:
Sagging, sinking, slanting or uneven upper-level wood floors
Titling or leaning chimney
Cracks in drywall – particularly at door and window corners
Jammed and misaligned windows and doors
Nails and screws popped out from drywall
Water seepage
Bowing or leaning walls
Cracking walls and floor slabs
In areas where soil is known to be unstable, we urge you to routinely check your basement walls for cracking and bowing and to be aware of other signs of foundation failure.
It should be noted that these symptoms don't necessarily signify structural issues. Small foundation cracks are normal, especially in poured concrete basements. Problems with drywall and window and door alignment may be the result of other issues in the home.
That's why we suggest contacting a professional foundation repair contractor in Cleveland, OH for a free assessment to rule out structural failures and to prevent costlier damage down the line.
Foundation leveling repair solutions for shifting and settling
When it's been determined that your foundation is sinking, settling or shifting, repair work is necessary to stabilize the structure.
Depending on the cause of the sinking and the type of damage already done, many repair solutions exist to strengthen the foundation for years to come. We deliver the following long-term foundation leveling options for sinking basements and crawl spaces:
High pressure grout injection into unstable soil
Load-bearing piers to lift and stabilize
Helical piers
Steel push piers for soil shrinkage and erosion
Plate anchors for cracked or bowed walls
Hydraulic lift slab piers
Causes of sagging and uneven floors
In most cases of sinking foundations, there is nothing the homeowner could have done to prevent the settling or shifting. Unfortunately, dirt settles over times and homes and other buildings are built on poor soil.
What causes poor soil?
Dry and hot conditions may cause soil to shrink
Wet conditions may cause soil to expand (plumbing leaks, heavy rains, and gutters that don't lead away from the home are notable culprits)
Poor soil preparation, leveling, and sloping when the structure was built.
Top basement and crawl space repair contractors
If you're in need of sinking foundation repair, choose us for the following reasons:
We use modern technology and repair solutions for permanent stabilization.
We offer lengthy warranties.
We deliver free and accurate estimates without hidden fees.
Our assessments carry no-obligation, our thorough, and provide you the information necessary to make the best decision for your home.
Our contractors, engineers and foreman are highly qualified, experienced, and intensely trained to deliver satisfying long-term results.
Call us today to learn more about our Cleveland foundation repair services.