CLEVELAND FOUNDATION & BASEMENT REPAIR
Fully licensed and insured foundation experts in northeast Ohio
Foundation Repair in Cleveland, OH
Cleveland Foundation Repair Pros deliver fully licensed and insured basement and masonry contractor services throughout northeast Ohio.
Foundation structural issues should be taken seriously. Our professional foremen, contractors, engineers, and technicians are experienced and intensely trained to provide long-term repair solutions at costs that fits your budget.
If you think your foundation is failing structurally, don't hesitate to call us for a free foundation assessment and estimate – if repairs are necessary. Our services are fairly priced, we won't hit you with hidden costs when the job is complete, and you'll be satisfied with our work.
Foundation problems have the potential to be devastating. We provide peace of mind.
Basement & Foundation Repair Services
If your foundation or crawl space is cracking, chipping, bowing or sinking, consulting a trusted foundation repair contractor is necessary.
Although many foundation problems are clear to the naked, untrained eye, others may not be so obvious. In those instances, symptoms around the structure often indicate repairs are necessary.
We offer a wide-range of services that address problematic foundation and basement walls. We restore and rebuild foundations, as well as provide minor fixes to cracks, chips, and minimal bowing.
Our repair and restoration services extend to residential and commercial structures. They include:
Cracked & Cracking Foundations
Cracks in concrete foundations can be caused by several factors. They include bowing walls, settling and sinking foundations, and pressure from soil surrounding the basement.
Cracks can form vertically and horizontally. Small cracks may not be serious or require repair. Larger cracks, however, could lead to wet basements – and worst, costly structural damage.
Most cracks can be fixed without tearing down the entire wall and starting from new. Addressing cracks promptly will lessen the cause of further damage and save you time and frustration in the long run.
We offer a wide range of crack repair options that specifically remedy the type of cracking your foundation is showing.
A bowing foundation wall can be devastating if left to continue to bow. Quickly addressing bowing will decrease the chance that an entirely new wall will have to be built and stabilize your foundation to prevent further issues.
Bowing is most often caused by the impact of pressure from nearby soil and tree roots. The shifting of soil as it freezes and unfreezes can be harmful to a concrete, stone, and brick basement wall.
In rare instances, a wall is bowed so badly that it will have to be replaced. But in most cases, we can install stabilizing braces and anchors to restore the foundation.
Not only does stabilizing a foundation correct the problem, it protects it from future soil shifts and protruding tree roots.
Sinking Foundation & Uneven Floors
Do you have uneven or sagging floors? If so, that's a fairly clear indication of a foundation that is failing.
Uneven flooring is often the result of a foundation is sinking in its soil. In this instance of poor, compacted soil, the structure must be stabilized by large steel shafts that extend to more stable dirt further below the ground surface.
Sagging floors could also be caused by weakened floor joists and girders, or improper spacing of support columns.
Regardless of the cause, a sinking foundation and uneven floor should not be taken lightly. Not only is a sagging floor not great to look at it, it also could leave to catastrophic outcomes.
We carefully assess the root of the problem and deliver solutions that restore your basement foundation.
While our bread and butter is repairing residential foundations and basements, we also provide large scale service to commercial and business foundations.
Our techs, engineers, and contractors have experience working on buildings of all shapes and sizes, including tall municipal buildings, sprawling retail structures, apartment buildings and complexes, churches, restaurants, office complexes, and more.
Our commercial foundation experience includes fixing cracks, bowing walls, sinking foundations, sagging floors, masonry damage, and complete foundation restoration. Our contractors also build foundations from scratch for new construction.
We provide free assessments and estimates and work efficiently on your schedule to help you maintain your business or property.
In addition to exceptional foundation repair, we also provide quality masonry repair and installation services for homes and businesses in the Cleveland area.
Our experienced masons are equipped with the talent and skill to repair, restore, and rebuild cracking, bowing, and failing brickwork, stone, and concrete. We can address issues with walls, chimney, brick walkways, driveways, brick and concrete patios and porches, fireplaces, concrete slabs steps and more.
In addition to the repair options outlined above, we offer the following services throughout the Cleveland, OH area:
Crawl space repair
Basement waterproofing
Foundation inspections
Tipping chimney repair
Sump pump installation and repair
Yard drainage solutions
Why choose our foundation contractors
When it comes to foundation repair contractors in the Cleveland and northeast Ohio region, we know you have plenty of options to turn to. There are many solid companies in our area that have good reviews on Google, Yelp, Facebook, Home Advisor, Angie's List, etc.
We salute them. We hate to brag, but they just don't match up to the value we provide in terms of outstanding work at fair rates. We are a true value among local contractors.
If you're in need of a trusted foundation contractor, choose us for the following reasons:
Honest assessments
Before we come looking for your credit card information, we deliver a free assessment of your foundation that is thorough and honest. We offer detailed solutions to any problems that exist and layout pricing options that suit your budget. Our free estimates come with no obligation or pressure.
Cutting edge technology
When it comes to foundation repair, having the latest and greatest technology is vital to offering our customers the best repair options at fair prices. As equipment and repair solutions evolve, we stay on top of the game through training, continued education and paying close attention to our industry trends.
Affordable rates
Operating in a blue collar city such as Cleveland, we understand the value of a dollar as much as you do. While our rates may not be the exact cheapest around, they are comparably low and fair. It is our goal to over-deliver for you in terms of value.
Friendly and professional customer service
After we're finished with the job, there's a good chance you'll want to hang out with our employees a little longer. We're fun, we're friendly, but most important, we're professional. We dress sharp, we're respectful to you and your property, and we're timely and efficient. No screwing around on the job here.
One-on-one approach
We're a small local company that thrives on delivering our customers personalized service. Throughout the entire process – from estimate and assessment to job completion – we'll keep you updated on the progress of our work with one of contact. Plus, we always respond promptly to emails, phone calls, and texts.
Access our detailed FAQs page to find out more about foundation repair costs and work.
Clevleand Foundation Repair Pros
Cleveland, Ohio
(216) 545-5362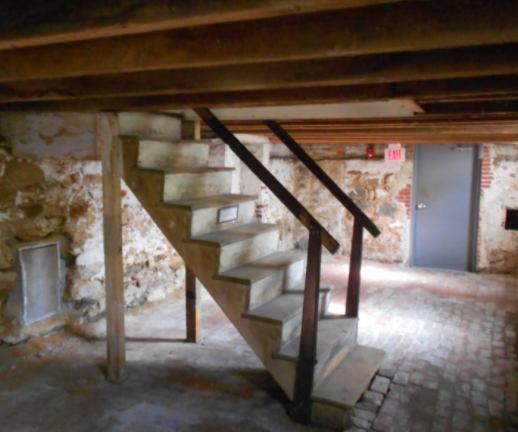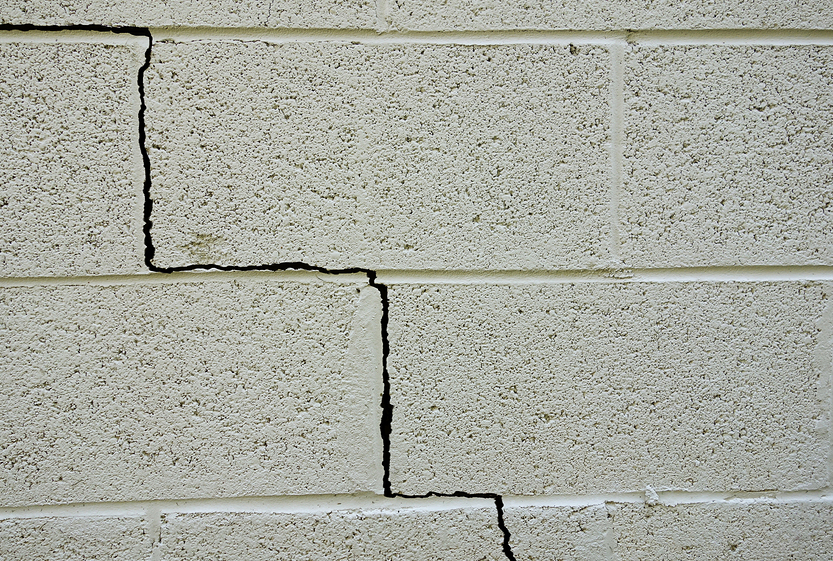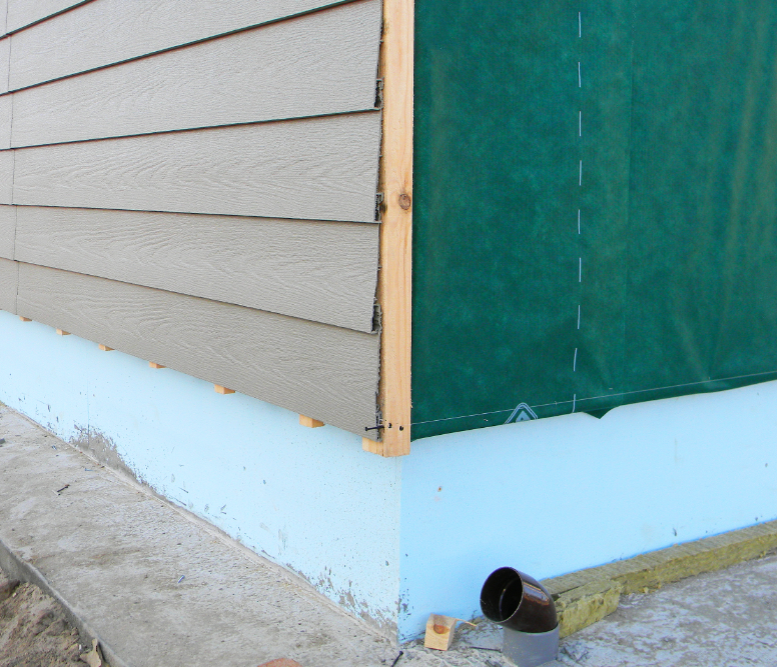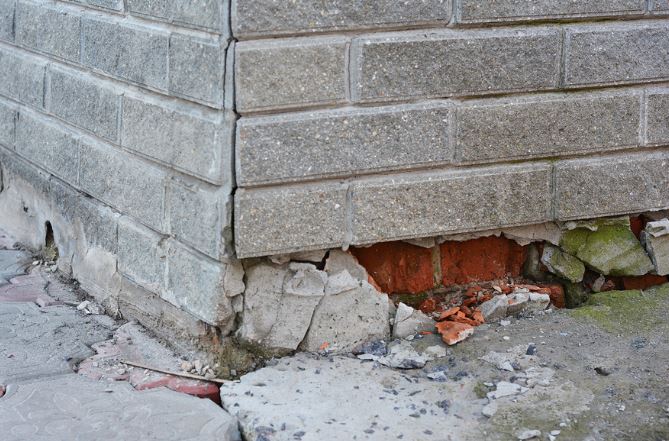 Signs Your Foundation Needs Repair
Oh no! You've noticed cracks forming in your basement walls or that your foundation is starting to angle inward ever so slightly. Those are obvious signs of foundation issues that should be assessed right away by a professional contractor.
But, more often than not, foundation, basement and crawl space problems are far less obvious. If you notice any of the following, there's a chance your foundation may be failing and in need of repair:
Chipping or cracking concrete
Popped out nails
Gaps at the tops and bottoms of walls
Bouncy floors
Windows out of square
Plumbing leaks
Leaks in basement
Cracks in drywall
Uneven flooring
Jammed doors and windows
Misplaced moldings
Cracks in floors
Gapping around chimney
Misaligned doors and windows
Our Service Area in Northeast Ohio
With great pride, we serve the metro Cleveland area and its suburbs. We may be based in Cleveland, but we travel throughout the northeast Ohio area to fix foundations:
Below is a sampling of cities, towns, and communities where we work most. This is our service area:
Berea
Bedford
Painsville
Elyria
Independence
Mentor
Northfield
Willoughby
Lorain
Olmstead Falls
Cuyahoga Heights
Euclid
Lakewood
Westlake
Chagrin Falls
Kent
Youngstown
Seven Hills